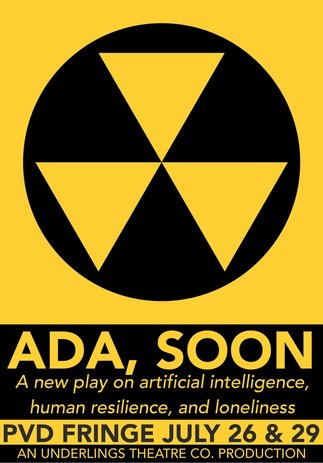 Ada, Soon
Presented by The Underlings Theatre Co.
​Artist Hometown:
Cambridge, MA
After the apocalypse, Ada is left with only a copy of The Tempest and an AI for company. Then a stranger comes knocking.
A new play on artificial intelligence, human resilience, and loneliness.
About the Artists:
The Underlings Theatre Co. specializes in classical and classically-inspired productions centered around diversity, inclusivity, and gender equity. We approach old texts with contemporary context in mind, to give them the same immediacy and intimacy that they had for their first audiences.
We are committed to the artistic development of our playmakers and their fair compensation and professional treatment.
Together with our audiences, we find something new in something old.

More at ​underlingstheatre.com
---
---
SHOWTIMES
Wednesday, July 26 — 8:45 PM —
Up Studio
Saturday, July 29 — 8:00 PM —
Up Studio
WaterFire Arts Center
475 Valley St.
​Providence, RI 02908