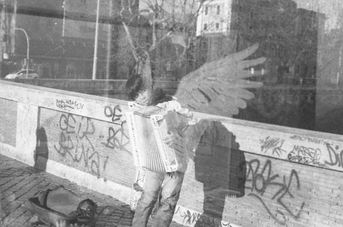 IS/ISN'T
by Antonio Forte & Paul M. Cote

IS/ISN'T is an interdisciplinary project that examines the intersection of aural and visual processes, asking questions through creative collaboration. In this installment of the project, specifically: does sound inform painting? does painting inform sound? is it painting? is it music? is it? isn't it?




ABOUT THE ARTIST
Antonio Forte is an interdisciplinary artist who uses creative processes to ask and (sometimes) answer questions dealing with temporality and spatiality. His visual and performative works have been exhibited and experienced nationally and internationally.

Paul M. Cote is a painter who, through the methods and conceptions of Abstract Expressionism and the New York School, seeks to better identify himself and his place in the universe, and that of his fellow human beings with paint and canvas. Mr. Cote pulls from the expanses of his profound personal journeys, both light and dark, to build up visually on canvas that which cannot be otherwise materialized.

---