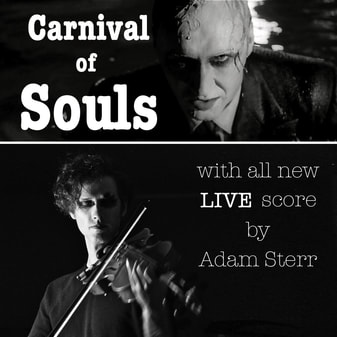 Carnival of Souls, w

ith an all new LIVE score
Presented by Adam Sterr
Artist Hometown:
Green Bay, WI / Princeton, NJ
Cult classic psychological thriller and late night b-movie staple, 1962's Carnival of Souls, gets a fresh take with an all new score to be performed live alongside the film by avant-garde musician Adam Sterr. The film has been recut and trimmed down to 55 minutes, much heightening the suspense and pacing of the original.
Cult cinema lovers and music enthusiasts alike are sure to enjoy this unique presentation of an indie film classic!

About the Artist:
Hi there, I'm Adam. My journey in the arts began in ballet where I spent 10 years working professionally in that medium performing with the Richmond Ballet and Milwaukee Ballet. Injury was the eventual catalyst that led me to a more serious pursuit of music.
The viola, and all of it's tonal quirkiness, is my instrument of choice. Having studied traditionally at the WI Conservatory of Music, I began experimenting with the potential to create minimalist, avant-garde pieces of music utilizing my viola run through a looping pedal. An ambition to create larger, mixed media projects led me to draw on my background in dance and seek out collaborations with professional dancers and circus artists. These collaborations have been featured in professional productions with Milwaukee Ballet, Portland Ballet, Circus Maine, and numerous performing arts festivals.
I've recently released my debut album of original music, "Space Radio" available at adamsterr.bandcamp.com.
My artistic influences include (but are in no way limited to) avant-garde, minimalism, art-rock, looping, 70's glam, contemporary ballet, contemporary circus, art house cinema, DIY endeavors, and all things Chiller Theater.

More at facebook.com/AdamSterrArt
---
---
SHOWTIMES
Saturday, July 29 — 6:00 PM —
Down Studio
WaterFire Arts Center
475 Valley St.
​Providence, RI 02908