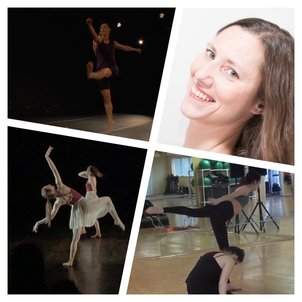 Continuing Fluctuations
Presented by Heather Brown Dance
Artist Hometown:
Franklin, MA
This movement exploration looks at the emotions and relationships developed as part of living with Cystic Fibrosis, a chronic condition that causes problems in the lungs and digestive system. The hope is to create work that touches everyone and helps spread awareness of the disease.
​
About the Artist:
Heather Brown, the creator of Heather Brown Dance, was first diagnosed with Cystic Fibrosis at 6 months of age. Growing up, She became interested in ballet and dance and was encouraged to stay active. Determined not to let CF get in the way, she was able to train first with Boston Ballet and then with Ballet Theater of Boston performing as a member of Youth Works. Through college, she continued her study of ballet with Rockford Dance Company of Illinois and expanded her movement vocabulary by becoming a member of Chelonia, a modern dance company of Beloit. She has performed in a broad range of classical and contemporary works including Nutcracker, Cinderella, and Wreath of Memories. In 2013 she decided to rededicate her life to teaching and creating dance. Her most recent choreography, Just Breathe, was performed as part of The Dance Complex Tiny and Short series.
More at
heatherbrowndance.com
---
---
SHOWTIMES
Thursday, July 27 — 8:00 PM — L Studio
Saturday, July 29 — 8:30 PM — L Studio
​
WaterFire Arts Center
475 Valley St.
​Providence, RI 02908