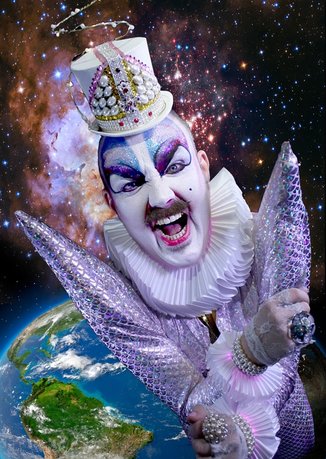 Dandy Darkly's Myth Mouth!
Presented by Dandy Darkly
Artist Hometown:
Brooklyn, NY
Dandy Darkly is New York City's cult, cabaret sensation. He is a masterful and mesmerizing storyteller who has astounded audiences at festivals and theaters on both sides of the Atlantic. Dandy's delirious tales of sex and death shift seamlessly from bitchy to bittersweet, each revealing a surprisingly elegant critique on modern life. Themes of past shows have included misogyny, guns, gentrification, political correctness and more.
"Fantastical fairytale horror, equal parts Tennessee Williams, Edgar Allen Poe and Bruce LaBruce with a dash of Brothers Grimm for good measure." (Time Out)
Dandy Darkly's Myth Mouth!
explores religious extremism, substance abuse and our contemporary worship of media technology via satiric tales concerning a junkie Persephone, Russian cosmopup Laika, virtual reality addiction and humanity's premiere popinjay, Cha-Cha the Caveman. Dandy Darkly cites folklorist Joseph Campbell, recent celebrity deaths, his childhood love of mythology and personal vices as influences for creating his latest show.
"Well crafted and intriguing, always building to poignancy. The final twist made the guy behind me whisper 'wow' in reverence." (Orlando Sentinel)
Dandy regales his hilarious tales of horror and humanity alongside a nonstop soundscape of prerecorded music composed by long time collaborators Adam Tendler (piano), Rachel Blumberg (percussion), and Bryce Edwards (guitar, bass). The show is peppered with eclectic sound effects to create a truly immersive storytelling experience. Ian Bjorklund returns as director.
Watch the preview on YouTube
About the Artist:
Dandy Darkly is New York City's cult storytelling sensation. He is a true Southern gentleman -- satirist, author and alt-cabaret performance artist. Dandy is a fixture on both the international Fringe circuit with four critically acclaimed solo-shows at the Edinburgh Festival Fringe and acclaimed performances at the famed Royal Vauxhall Tavern and the London Horror Festival.
Dandy has performed stateside at the historic Stonewall Inn, the Slipper Room, Dixon Place, Under St. Mark's Theater, the Frigid Festival NY, the Queerly Festival, the HOT! Festival and the New Orleans Fringe. Every summer Dandy delights Provincetown Bear Week's hairiest honchos with his annual secret show down under Provincetown's infamous Dick Dock. This summer Dandy is taking his latest show,
Dandy Darkly's Myth Mouth!
, across America with runs in Tampa, Orlando, Providence, Portland (Maine), New York City, Chicago, San Francisco and more!
More at
dandydarkly.com
---
---
SHOWTIMES
Thursday, July 27 — 7:00 PM —
Main Hall
Proscenium
Friday, July 28 — 10:00 PM —
Main Hall
Proscenium
Saturday, July 29 — 6:00 PM — Garage
​
WaterFire Arts Center
475 Valley St.
​Providence, RI 02908