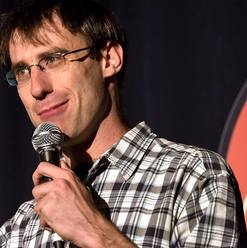 Flyer Guy
Presented by David Lawson
Artist Hometown: New York, NY
Flyer Guy is David Lawson's one-man show consisting of his funniest and wildest stories from four years of handing out flyers in Times Square. From witnessing the racist rants of a costumed Elmo, to having to wear a skin-tight body suit on a hot day, to having pictures of him looking miserable on the job seen by hundreds of thousands on Facebook, and more.
About the Artist:
For over ten years David Lawson has performed one-man shows about things such as sleeplessness and outer space (Insomnia in Space), 9/11 from a Washington, DC perspective (Floundering About), video games (No Oddjob), and more. His one-man show about porn, VCR Love, has been published by Original Works Publishing. Lawson has performed on the popular storytelling shows Mortified, Kevin Allison's RISK! live show, and Mara Wilson's What Are You Afraid Of?
More at
dtlawson.com
---
---
SHOWTIMES
Thursday, July 27 — 10:00 PM —
Up Studio
Friday, July 28 — 10:00 PM —
Up Studio
​
​
WaterFire Arts Center
475 Valley St.
​Providence, RI 02908