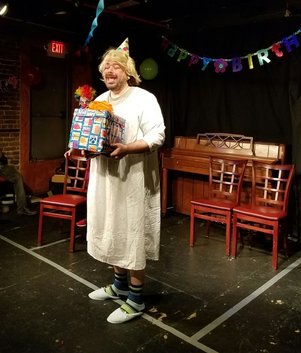 Happy Birthday, Stupid Kid!
Presented by Improvisational Repertory Theatre Ensemble
Artist Hometown:
New York, NY
Jamie McCluskey is turning 12 and you're invited to celebrate THE BIG DAY! There will be games, goodie bags, music, a birthday cake and plenty of mayhem. Jamie may be just a "stupid kid," but it's the adults who are out of control in this improvised and interactive birthday party. You'll get to join in the fun while witnessing the over-the-top antics of Jamie's family.
​
Happy Birthday, Stupid Kid!
Original Concept by Nannette Deasy
Directed by Robert Baumgardner
Starring
Bill Berg, Nannette Deasy, Curt Dixon, Michael Hauschild, Jamie Maloney, Connie Perry, and Sam Katz

Featuring live music performed by David Alves
​About the Artists:
Having just wrapped its sixth season, IRTE is an award-winning ensemble who develop, produce and perform original themed, theatrically-staged, and character-driven comedy shows based in improvisation and following the basic model of seasonal repertory theatre. IRTE has won praise for elevating the art of improvisational theatre while opening it up to a broader audience of theatergoers. Adding simple costumes, props, and strong characters, IRTE presents a very theatrical, raw, ridiculous and irreverent, narrative-driven and completely improvised show.
Most recently, IRTE performed Happy Birthday, Stupid Kid at the Asheville Fringe Arts Festival where it won the award for "Artists Whose Work Made Me Laugh the Most". Other festivals include the Midtown International Theatre Festival, Theatre for the New City's Dream Up Festival, the Del Close Marathon, Philadelphia Improv Festival, Boston Comedy Arts Festival, NYC Improv Festival, Unscripted New York Improvised Theatre and Film Festival, Tampa Improv Festival, New Orleans Comedy Arts Festival, and Portland Improv Festival. IRTE was honored with the 2014 Supreme Honorary Improvised Theater & Film Award for Outstanding Genre Performance by Unscripted New York and was named one of the "Seven Must-See Shows" of the 2014 Boston Comedy Arts Festival.
Critics have called IRTE "one of the leading improv troupes in merry old Manhattan and a welcome and uproarious asset to festivals and other engagements across the country," (Natasha Dawsen, Drama Queens), "very funny... a unique improv experience, full of laughs, sci-fi, and a bit of suspense." (Larry Schneier, NowOnBroadway.com), "... a very exciting–and very different–kind of improv show... a wonderful night of theatre, comedy, and improv. Hats off to The Improvisational Repertory Theatre Ensemble as well as the wonderful cast for creating something I loved. " (Conor D. Mullen, Outerstage)
"(Happy Birthday, Stupid Kid) rehashes all of the awkward, hilarious, unforgettable shenanigans that occur whenever families get together to celebrate... an unforgettably entertaining evening."
(Catherine Santino, Spoiled NYC, Laugh-Your-A$$-Off-Funny: Check Out These 2 Can't-Miss Comedy Shows in NYC)
Originally conceived by Nannette Deasy (Founder and Artistic Director, IRTE) and directed by Robert Baumgardner, the cast includes Nannette Deasy, William Berg, Curt Dixon, Jamie Maloney, and Sam Katz.

More at irteinfo.com
---
---
SHOWTIMES
Saturday, July 29 — 10:00 PM — L Studio
WaterFire Arts Center
475 Valley St.
​Providence, RI 02908