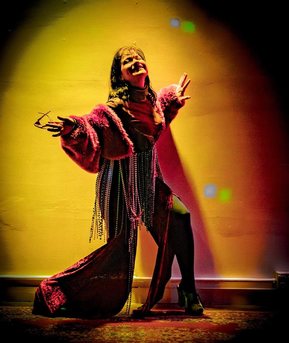 Horror: Highlights of a Dark Comedy
Presented by Elizabeth Anne Keiser
​
Artist Hometown: Parchment, MI

What happens at a bearlesque show where "bear" naked isn't satisfying for the clientele?

Homage to Get Out, with Get Back In, starring the deceased mother of a current leader trying to coax her son back into the womb.

This is a recurring episodic live theater dark comedy with music that parallels current events, hence the title. In interactive video, vignettes, poems, songs, and monologues, the spectrum of HORROR is explored from the mundane to the atrocity.

About the Artist:
Elizabeth Anne Keiser (director/writer) has been performing HORROR since before the 2016 election at AS220 and Aurora. Formerly a resident artist at Providence Black Repertory Company, Keiser finds performance to be a catharsis for the times. Theatre is also a place to come to terms with our reality that teeter totters on white supremacy. What do we do if we can't come together? Mediocrity isn't something for an epitaph.
---
---
SHOWTIMES
Friday, July 28 — 7:00 PM — Down Studio
Saturday, July 29 — 10:00 PM — Down Studio
​
WaterFire Arts Center
475 Valley St.
​Providence, RI 02908