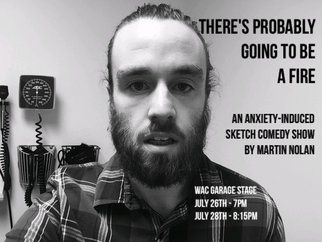 There's Probably Going to Be a Fire
Presented by Martin Nolan

Artist Hometown: Brooklyn, NY

Martin Nolan has a terrible fear of dying young. Please come see the parade of anxious characters he has created in order to distract himself from just how soon everything could turn to eternal darkness. Or don't. Your time is valuable, so maybe you should just go be with your loved ones instead.

About the Artist:
Martin Nolan is a sketch comedian in New York City, a former contributing writer for the Onion's website Starwipe, and the acclaimed author of this blurb written in the third person. He was born and raised in Rhode Island, so please don't heckle him at the show—chances are you're sitting next to one of his aunts.
---
---
SHOWTIMES
Wednesday, July 26 — 7:00 PM — Garage
Friday, July 28 — 8:15 PM — Garage

WaterFire Arts Center
475 Valley St.
​Providence, RI 02908