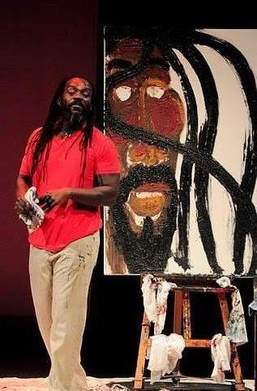 unFRAMED
Presented by Iyaba Iba Mandingo
Artist Hometown:
Stamford, CT / St. John's, Antigua
Meet Iyaba Ibo Mandingo, formerly Kenny Athel George DeCruise - painter, poet, husband, father, son, and undocumented immigrant from Antigua. At the age of eleven, Iyaba is plucked from the tropical comfort of his boyhood and taken to life in America where he must navigate his way to manhood without the guidance of a father. Using canvas, paint, poetry, prose and song, Iyaba tells us a story of his transformation from "Mommy Me No Wanna Go Merrica"- a prophetic piece that hints at the many trials he will face in a new land - to his powerful political poetry that would lead to his arrest and attempted deportation in post 9/11 America. Throughout the play Iyaba shares his rage, his determination, and his hope while he paints his self-portrait and successfully struggles to redefine his humanity, rediscover his smile, and truly accept himself for the first time.
​
After a successful two-year Off-Broadway run in 2011-2012,
unFRAMED
completed its second run in NYC Spring 2017 and has been selected to participate in the upcomi
ng Harlem Arts Festival i
n June 2017!
unFRAMED
was a winner of the 2011 Excellence in Theatre Award from the DC Black Theatre Festival. The play has been presented all over the east coast, including at the Railroad Playhouse in Newburgh, soloNOVA Arts Festival, the Puffin Cultural Forum, as a Spotlight show at the DC Black Theatre Festival; at colleges and universities (York College, NY; Nichols College, MA; University of Baltimore, MD; Rider College, NJ); galleries (Casa Frela, Harlem, Gallery 1212, CT) and the Hudson Valley Writers Center.
unFRAMED
was also as part of the 2011 Art of Justice Series at the Gerald W. Lynch Theater in NYC and the inaugural AFO Theater Festival at Theatre 80 St. Marks, NYC.
About the Artist:
IYABA IBO MANDINGO – painter, poet, writer, actor, singer and playwright - is a native of Antigua, West Indies, who came to the United States in 1980 as a young boy. His earliest exposure to the arts were through his mother, a trained singer, and his grandparents, a tailor and a seamstress who first introduced him to colors and patterns, paving a path to the many ways of expression; drawing, painting, sculpting, writing and performing. Iyaba studied fine arts at Southern Connecticut State University and today teaches in and around the tri-state area as a Master Teaching Artist.
Iyaba has appeared regularly as a performance poet in venues across the United States and abroad, including Nuyorican Poetry Café, Brooklyn Moon, and Next Door Café among others in the NY area and was the keynote performer at the 2011 Westchester, NY Poetry Festival. In 2015 he embarked on his first African tour bringing his one-man play
unFRAMED
, his first novel
Sins of My Fathers
and his poetry to South Africa and Nigeria.
Iyaba was awarded several grants including the National Percent for the Arts Program artist grant, the Connecticut Commission on the Arts, and multiple commendations from the Nassau County African American Museum. His artwork has been included in many group and individual shows in the United States and internationally. His Grave Marker Series has been seen at the African American Museum of Philadelphia as part of a special exhibit "Arresting Patterns."
He has previously been seen at 59E59th St Theatre as
Henry
in Deb Margolin's "The Expenses of Rain" (Laura Barnett, director) and as
Jackson Phillip
in Derek Walcott's "Pantomime" (E. Wayne McDonald, director). Iyaba was a 2011 Artist in Residence at the New York Theatre Workshop. His new, highly anticipated performance piece "AFRIKA360" is made its debut in November 2016 and is currently preparing to go on tour
Iyaba has authored three chapbooks of poetry, "41 Times", "Amerikkan Exile" and "40 days & 40 nites of write". His first novel, "Sins of My Fathers", was released in 2014 and is available at http://www.iYABARTS.com. His first collection of poetry "Fu You Tongue Heavy Lakka 56" will be released in the fall of 2017.
---
---
SHOWTIMES
Saturday, July 29 — 8:00 PM

RISD Point St. Pop-Up
130 Point St.
Providence, RI 02903