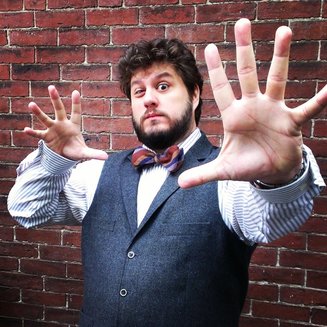 What Does it All Mean?An Absurd Magic Show
Presented by Eric Benton
Artist Hometown: Brookline, MA
"How did he do that?!?" Nope. The question you should be asking is "WHY did he do that?!?" Calling upon a charming obsession with symbolism, Eric is determined to uncover the hidden metaphors behind the tricks… whether they're there or not.
What Does it All Mean is a delightfully absurd magic show full of pleasant mysteries and clever nonsense with secret meanings lurking just below the surface.

About the Artist:
Eric Benton is a professional magician based in Brookline, MA who has been studying magic for 25 years. Additionally, he has a degree in psychology and has also studied myths and folklore. According to his mother, he's pretty darn cool.

More at clevernonsense.com
---
---
SHOWTIMES
Tuesday, July 25 — 7:00 PM — Garage
Thursday, July 27 — 8:00 PM — Garage
​
WaterFire Arts Center
475 Valley St.
​Providence, RI 02908