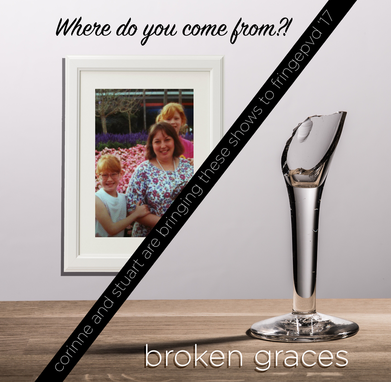 Where Do You Come From?!

and
Broken Graces
Presented by Corinne & Stuart
Artist Hometown:
Providence, RI
Corinne & Stuart bring a comedy double bill to the FRINGEPVD '17 about their mothers.
Corinne performs with her mother in a show about how different (and difficult) mothers and daughters can be. Where Do You Come From?! is the exclamation of an exasperated mother that sends her daughter into a lifelong pursuit of finding where she's supposed to be. Be prepared for some outrageous comedy as Corinne and Barbara share their true thoughts and feelings about what it's been like to be related to the other for 30+ years. Despite difference, however—we are our mothers' daughters... and our daughters' mothers.
Broken Graces is a smaller part of larger works focusing on Stuart's relationship with his mother and how that goes wrong. It's also a show about chronic pain and medication, so lots of laughs. Being a stereotypical English person, Stuart will use humour to try to deflect from difficult truths but some will probably slip through, they always do.
About the Artists:
Corinne & Stuart are theatre makers based in Providence, RI. Corinne is a producer, performer, vocalist, and dramaturg. Stuart is a photographer, designer, comedian, and storyteller. They are also married to each other. They got married twice, actually. To each other. (Obviously.)
Previous produced works include Home/Run, a love story and/or a show about finding and defining 'home.' They are currently working on a full length work: There But For The, a verbatim play about about the opioid 'epidemic' from a different perspective: those who occupy the space between the larger systems in place that regulate pain management and patients directly affected by those decisions.
Corinne performs with Shey Rivera's Luna Loba at AS220. Stuart is an ensemble member of Elizabeth Keiser's Horror at Aurora. You can join them for From Scratch at AS220, a series where they collaborate to showcase the work of other performers developing new work in Providence. They can join you as Stray Creatives, a freelance media collaborative that provides video, audio, photography, and design services to artists and companies.
More at
corinneandstuart.com
---
---
SHOWTIMES
Tuesday, July 25 — 7:00 PM — L Studio
Thursday, July 27 — 7:00 PM — L Studio
WaterFire Arts Center
475 Valley St.
​Providence, RI 02908