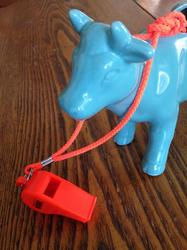 Whistle Stop: Short Plays
Presented by The Blue Cow Group
Artist Hometown:
Providence, RI
Join us on a whistle-stop tour of five original short plays by five different writers. Oh, and did we say that there will be whistles?
​
Jungle Communion
by Kay Bullard
See what happens when a couple begins a cookie fight to solve a marital problem.

View from the Mountain
by Monica Staaf
When a mountain hike among cousins threatens family harmony.

A Mayor in Providence
by Jayne Hannah
When a questionable woman decides to run for mayor after her experiences in a self-help seminar.

By the Sea
by Elaine Brousseau
When a casual conversation on a beach takes an unexpected turn.

Red Satin Trunks
by Susan Buttrick
When a woman arranges to return something to a childhood crush.
About the Artists:
The Blue Cow Group, formed in 2014, is a Providence-based
playwriting group of seven members. Five of its members—Elaine Brousseau, Kay Ellen Bullard, Susan Buttrick, Jayne Hannah, and Monica Staaf—will be having their plays performed in the 2017 Providence Fringe Festival. Members' works have been staged at the Acme New Works Winter Festival, Boston Theater Marathon XVII, Boston Theater Marathon XVII One-Minute Sprints, Boston Theater Marathon XVIII, Culture*Park Short Plays Marathon, Gamm Studio, Gamm Studio Theater Lab 10-Minute Play Festival, The Orange Players' 10 Minute One Acts Festival, The Providence Fringe Festival, and Sundog Theatre's Scenes from the Staten Island Ferry. Please see the evening playbill for detailed information on the directors and the actors.
Directors: Bethany Angeloni, Monica Staaf, Steven Myerson
Actors: Susan Buttrick, Carol Drewes, Kelly McCabe, Ashley Moore, Liz Parent, Yunus Quddus, Charlie Sweigart
---
---
SHOWTIMES
Friday, July 28 — 10:00 PM — L Studio
Saturday, July 29 — 7:15 PM — L Studio
​
WaterFire Arts Center
475 Valley St.
​Providence, RI 02908